Edited 30th November 2012: This competition is now closed. Congratulations to Antonia and Lisa J – you won! My girls loved your ideas. I've just sent you an e-mail to arrange your prize
I have a super competition for you today, with over £100 in prizes from Makedo on offer. The prizes are just right for creative kids who love to play! Makedo is a great new product that takes junk modelling to a whole new level. These Makedo kits enable children of all ages to transform packaging into exciting play objects such as cars, playhouses, robots  – whatever their imagination desires.
The competition is for UK residents only and I have two sets of prizes on offer. It's super easy to enter the competition. All you have to do is answer this question:
What's the very best thing you could do with a cardboard box?
My daughters B and L will pick their two favourite suggestions and the the two readers who gave those suggestions will be the winners.
Over £100 worth of Makedo prizes
Here's what you could win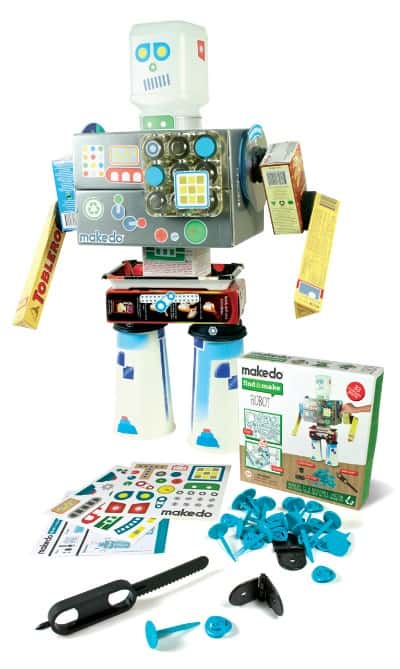 Touted as the 'Lego of the next generation' by international media, Makedo is a reusable connector system that enables materials such as cardboard, plastic and fabric to be joined together to form new objects or structures. It is based on an ingeniously simple and reusable connector system comprising Re-clips to connect with; Lock-hinges to hinge with; and a handy Safe-saw tool to enable kids to safely punch holes and saw through all kinds of materials.
The Makedo prizes
I have two Makedo prizes consisting of 2 great bundles worth over £60 each.
Each bundle will include Makedo Find & Make kits for the London Tube, London bus, 2 flowers and 2 robots.
Each kit contains directions, connectors and a Safe-saw – all you need is plenty of recycling and a healthy imagination!
How to enter the competition
To win just leave a comment on this post with your answer to this question:
What's the very best thing you could do with a cardboard box?
Rules:
One entry per person. UK residents only. You have until midnight (GMT) on Friday 23rd November 2012 to leave your comment.  You must give your e-mail address in the box when you comment (so I can contact you) or your entry will not be counted. My daughters B and L will each pick their favourite idea and the people who left these comments will be two winners. I will send your e-mail details to Makedo and they will arrange delivery of your prizes. All queries must be sent directly to Makedo.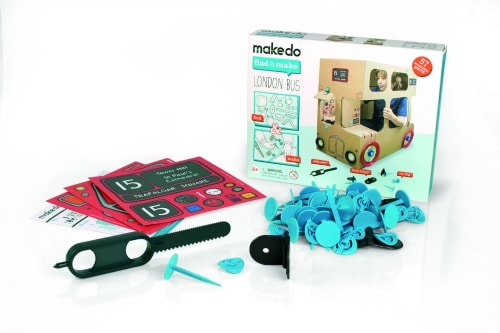 Makedo is supported by the Makedo website (mymakedo.com) that features online galleries with literally hundreds of photos of exciting creations made by people from all corners the world. It is a universal resource for a global community of makers who are invited to upload their creations to share and inspire others.
Makedo is available at Selfridges, Tate Modern and through toy and gift retailers internationally plus at Makedo's online store mymakedo.com .
So tell me:
What's the very best thing you could do with a cardboard box?
#sponsored post