We've put together some of our most popular ebooks into premium bundles, giving you a wonderful collection of resources at a reduced price.
Lots of our readers want to buy more than one of our ebooks, so we've created these bundles to make it easy for you to add them all to your cart with just one click, and so we can offer you a discount.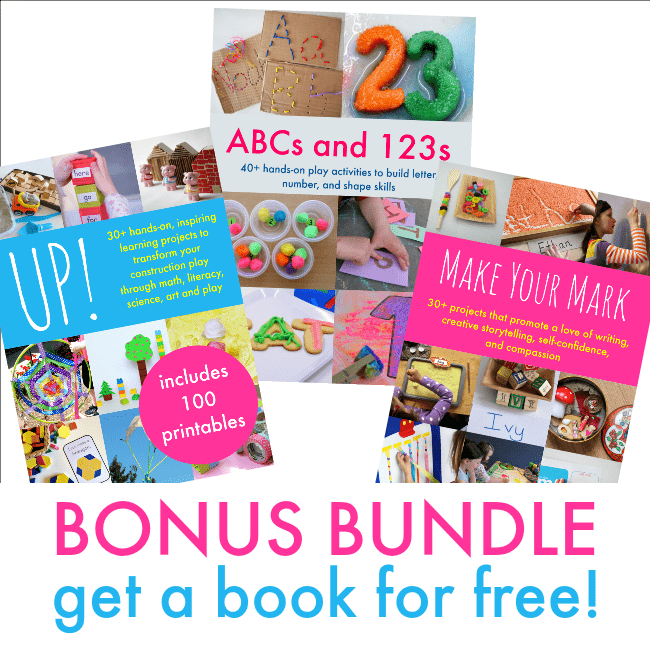 The Learning Bonus Bundle
Would you like a book for free? Our Learning bonus bundle gives you two of our most popular books, with an extra one for free!
You'll receive a copy of Up! and Make Your Mark, along with a free copy of ABCs and 123s.
Make Your Mark will help your child to make their mark with wonderful projects that help develop a love of writing, creative storytelling, self-confidence, and compassion – along with six sets of bonus printables.
Up! will take your child's love of blocks and building, and go far and wide across the curriculum. With 30+ projects across math, literacy, science, art, and play, Up! shows you how to support passion-led, hands-on learning. It includes inspiring ideas for mobiles, rockets, airplanes, parachutes, build challenges and more. Includes 100 printables.
ABCs and 123s gives your 40+ hands-on play ideas that will help your child build their letter and math skills. The activities have been carefully chosen to offer a wide range of math and literacy skills, working across the curriculum to incorporate play, imagination, science, sensory, and art.
Buy two books at the regular price of $29.98 and you'll get the third book for free!
Click here to choose this bundle and get a book for free.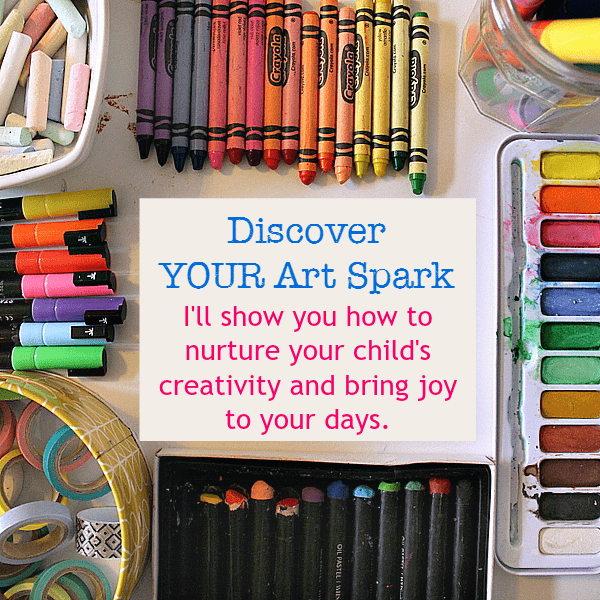 The Art Spark Premium Bundle
The best choice if you'd like to join the Art Spark adventure and start a joyful art practise with your children is to join me for the four-week guided course. This gives you both the Nurture Art foundation ebook, value $10, and the Art Spark project ebook, value $14.99, along with membership of the four-week Art Spark adventure, for just $59.99. Let me show you how to nurture your child's creativity and really make art happen. See full details ansd join Art Spark here.
You can get the two ebooks as a special bundle for $19.99, saving you $5, or join me for the full course – including both ebooks – for $59.99.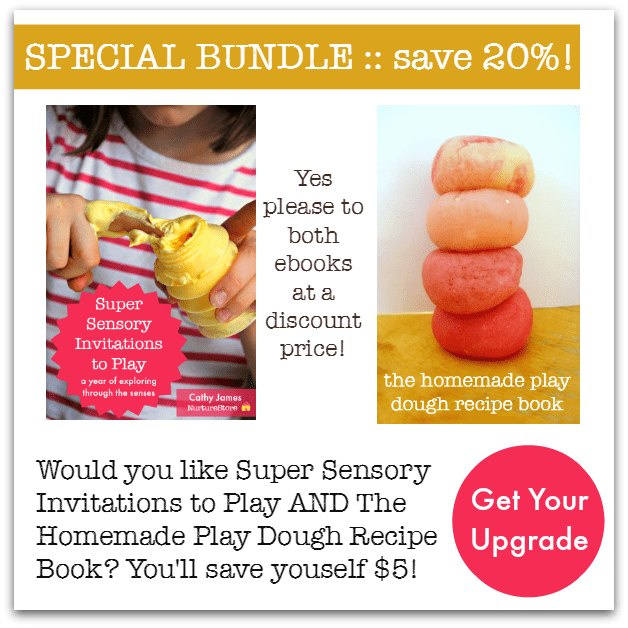 The Super Sensory Premium Bundle
Give your play a super sensory boost with our premium package of Super Sensory Invitations to Play and The Homemade Play Dough Recipe Book. The premium bundle gives you both titles, worth $24.98, for just $19.98, saving you 20% (a $5 saving). Click here to add it to your cart.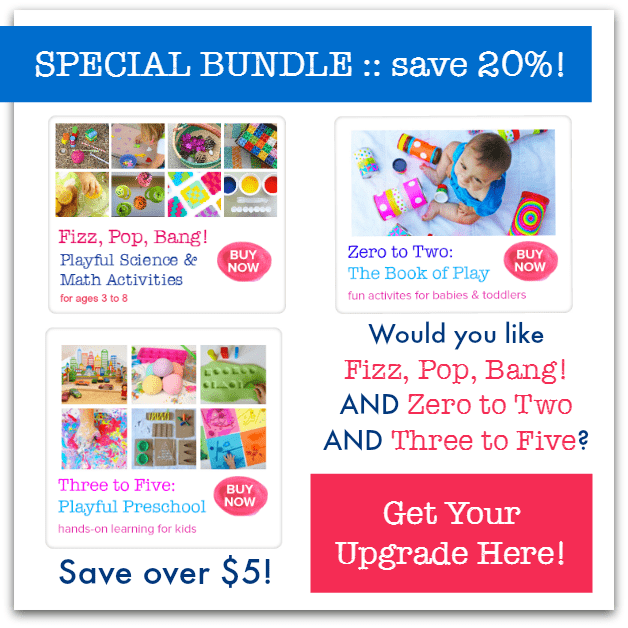 The Learning Through Play Premium Bundle
Click here to get Fizz, Pop, Bang: Playful Science and Math Activities AND Three to Five: Playful Preschool AND Zero to Two: The Book of Play for just $22.
This saves you over 20% and gives you more than a $5 discount.
Click here to get your premium bundle.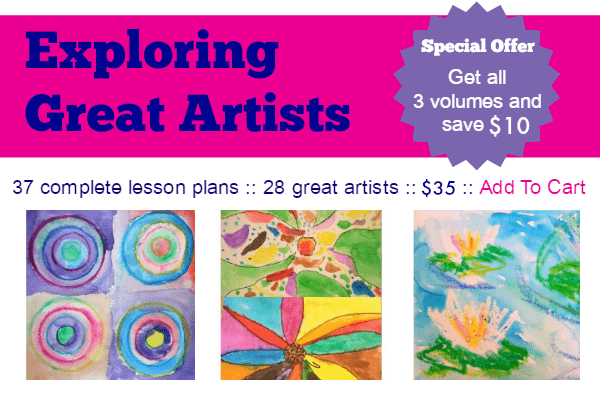 The Exploring Great Artists Premium Bundle
Exploring Great Artists is a series of three ebooks by MaryLea Harris. Each volume gives you everything you need to create your own colorful units to study art at home or at school. The premium bundle gives you all three volumes in the collection for just $35, saving you $10: click here to add it to your cart. 
The ebooks include background information on each artist, supply lists, and creative, hands-on art projects to try with your children at home or in a classroom setting.
Find out more about Exploring Great Artist Volume One, Exploring Great Artist Volume Two, Exploring Great Artist Volume Three or for only $35 you can buy them together part of our Premium Bundle, saving $10.

Important Information
By purchasing items from our website you consent to our Privacy Policy.
All ebooks and other digital products are subject to copyright and may not be shared or distributed in any way or form.
FAQs
If you have any questions, then please refer to our FAQ.