This really is a super yummy, very easy Christmas biscuit recipe. We make several batches each year, as they're great for decorating the tree, giving as gifts… and eating yourself!
Easy Christmas biscuit recipe
This is very much like a traditional gingerbread recipe, with a few extra spices. It's a recipe children can make themselves, with some supervision. The quantities given will make around 30 small star biscuits.
Cooking is a wonderful sensory play experience, and really good for showing children how maths and science are applied in every day life. Here's the recipe:
Take a very big pan and in it melt:
3oz / 85g of butter
2 tablespoons of golden syrup (honey or corn syrup could be a substitute, although you can't beat the flavour of golden syrup!)
2oz / 60g of caster (fine) sugar (we use sugar that's been scented with a vanilla pod)
Don't let the ingredients boil, and as soon as they have all melted, turn off the heat under the pan.
Then measure out:
7oz/ 200g of plain (all purpose) flour
2 teaspoons of ground ginger
2 teaspoons of ground cinnamon
and a grating of fresh nutmeg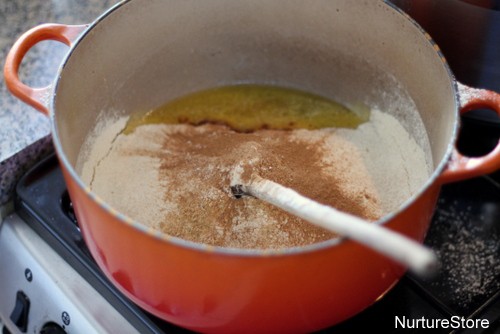 Add your dry ingredients to the pan of liquid ingredients and stir together. Dissolve 1 teaspoon of bicarbonate of soda in 1 tablespoon of water, and add this in too. Stir everything together until it comes together to make a dough.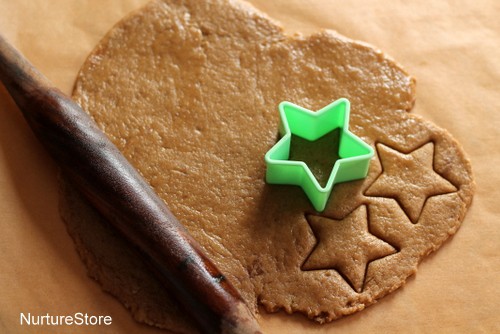 The dough will be quite oily, which is good because it means you can roll it out, cut out some biscuits,  squish, roll out again and cut some more biscuits, without it drying out. But it does also mean it might get stuck to your table. Rather than coating the table with flour (and drying out your dough) use a piece of baking paper as a board to roll out your dough. The flexibility of the baking paper will make it much easier to lift the biscuits up too.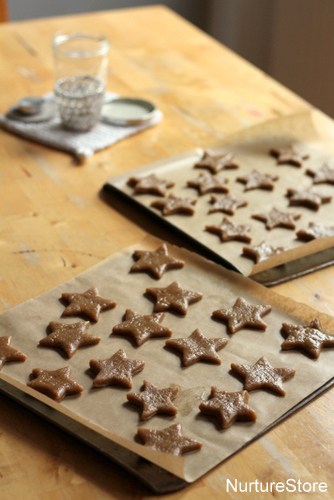 Stamp out your biscuit shapes until you've used up all the dough, and then place the biscuits onto baking paper on baking sheets. If you're making decorations, remember to make a hole in each biscuit so you can thread your ribbon through.
Bake at Gas 5 / 190 /375  for around 8 minutes if you like your biscuits to be melt-in-your-mouth soft, and for a little longer is you want them crisper, especially if you're using them as decorations to hang on the tree.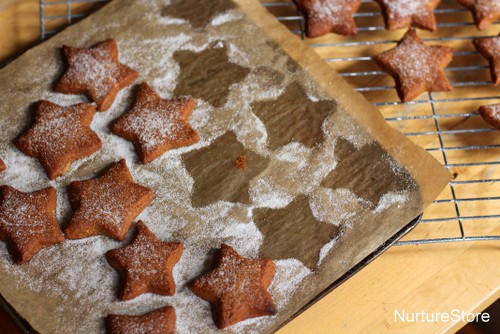 When the biscuits are baked, sprinkle over some more sugar, for a little extra sweetness and a frosty look.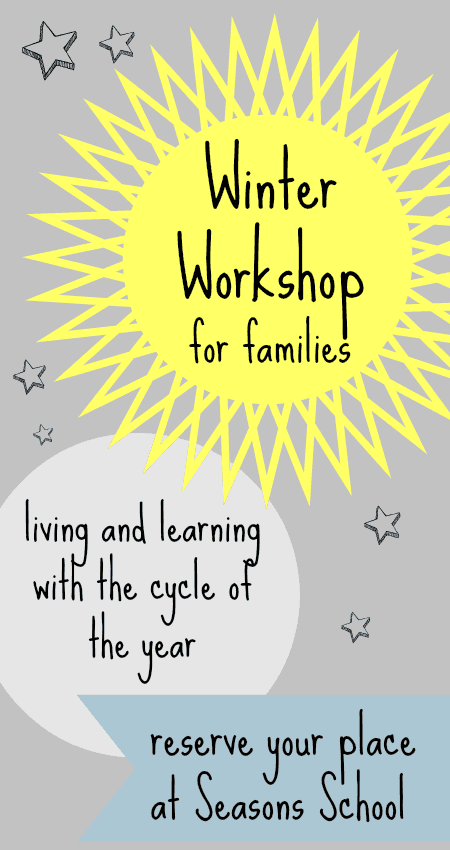 A winter workshop for you and your children
Join my 21 day winter workshop with your family and fill the dark months with light, connection, cosiness, and creativity.
The workshop is self-paced with no pressure to do, make, buy, or add lots of extra busyness to your schedule. Instead I'll give you gentle lesson and activity ideas, supported by lovely printables and extra bonus resources.
I'll send you carefully chosen, simple inspiration for easy arts and crafts, stories, poems, math, science, food, play and rest. Enjoy the ones that appeal to you and your children, and relax about the others.
The workshop is suitable for all families, however old your children, and whatever your faith. With no religious connections the resources work both as an accompaniment, or an alternative, to any winter festival your family may observe.
Want to find out more? Pop your email address in the box below and I'll send you more details shortly.