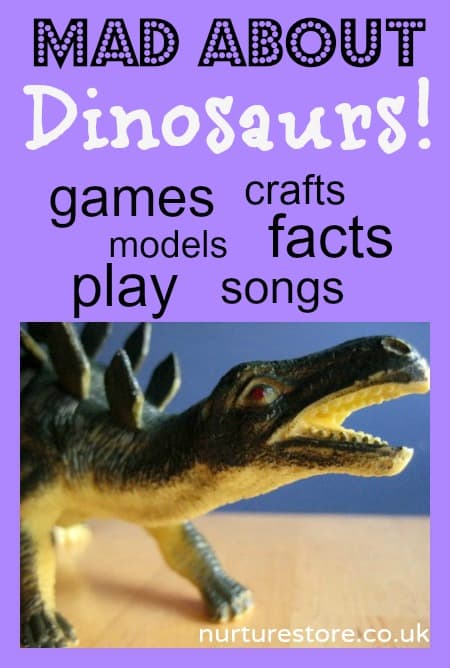 Do you know someone who's mad about dinosaurs? Taking a child's passion and using it as a springboard into lots of play is a great way for them to learn.
Here's a fiesta of all things dinosaur: dinosaur games, dinosaur crafts, art and models, dinosaur activities and even dinosaur songs. There's lots of fun to be had while you work on important skills including maths, language, fine and gross motor, imaginary play and creativity.

Mix up a batch of our favourite salt dough recipe and make your own dinosaur models to keep for lots of play
Or use plaster of Paris to make your own fossils
Try some T-rex art and make a dinosaur stomp picture
Use pasta to make dinosaur skeleton
Transform a cardboard box into a dinosaur land
Make some eggs and watch your baby dinosaurs hatch

Or take your dinos to play outdoors in a leafy dinosaur world 
Go on a playdough dinosaur dig and see what you can unearth
Or head outside and see if there are any dinosaurs in your garden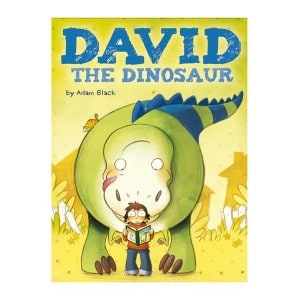 Read lots of dinosaur books. We're Feather & Black Kids bedroom furniture testers and the recently sent us their new bedtime story book David the Dinosaur to read. The book was written by Feather & Black's managing director Adam Black, inspired by his own young boys. They have matching Dino bed linen and PJs too.
Make yourself some dinosaur feet and go on a dino dance
Try some dinosaur target practise
Print these picture cards and play some dinosaur matching games
Sing these dinosaur songs
Check out the dinsoaur resources at the Natural History Museum website
Get all the best kids ideas
These dinosaur games and activities were all discovered through the Kids Co-op weekly idea swap. Bringing together kid bloggers from right around the world it's a great place to find fun activities for your kids. Follow the Kids Co-op facebook page to get all the best ideas.
Leave a comment and tell us your favourite dinosaur games.