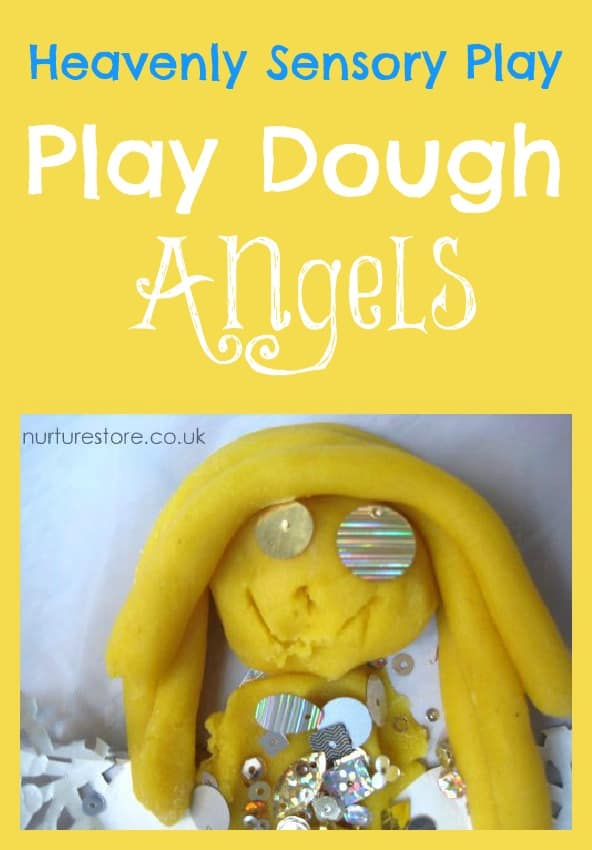 At this busy time of the year it's great to have a sensory play idea on hand when giddy children need some relaxing play to bring a little calm amongst all the exciting festive fun.  My own little angels have been making play dough angels this week. It's a lovely Christmas play idea to try, and you only need three ingredients.
Play dough angels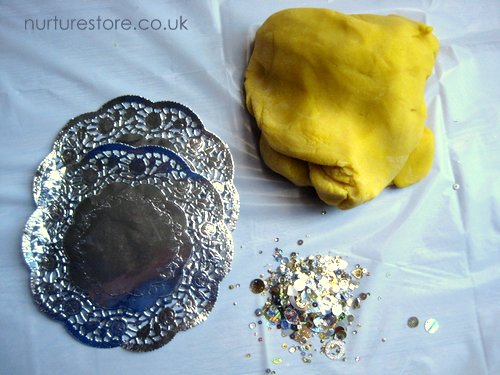 We usually do our play dough play on the kitchen table but recently I've been setting it out on a plastic table cloth on the floor. The children seem to like the extra space this gives them, and they lie down and chill out while they play. For the angel idea I set out some yellow play dough (made using my favourite play dough recipe), some silver doilies and some gold and silver sequins and foil shapes. (The pound store being a great place to get the last two items.) Adding in some festive Christmas music is fun too – maybe 'Hark, the Herald Angels Sing!', so you can sing as you play.
I though the doilies would make nice wings, but the kids had other ideas. Here's B's angel – and isn't she pretty?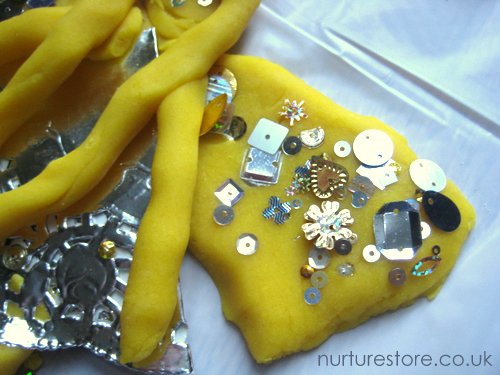 The sequins and doilies add in some extra sensory elements, bringing shine and texture to contrast with the smooth dough.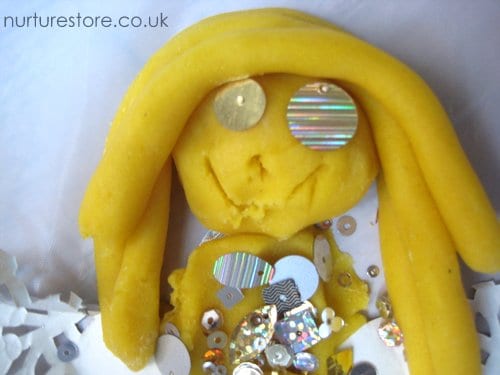 And here's L's little angel with her sweet smile!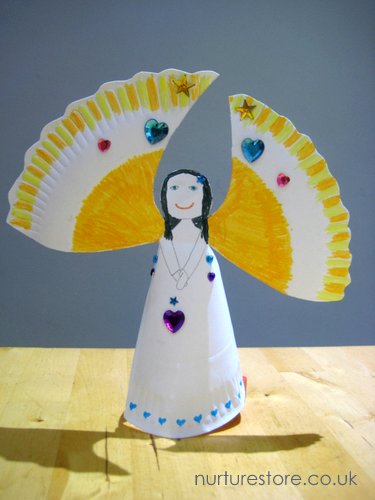 I thought you might like to see the other angel the girls made this week. We have an annual tradition of making a paper plate angel for our tree – here's this year's version. Click though if you'd like the template to make your own paper plate angel.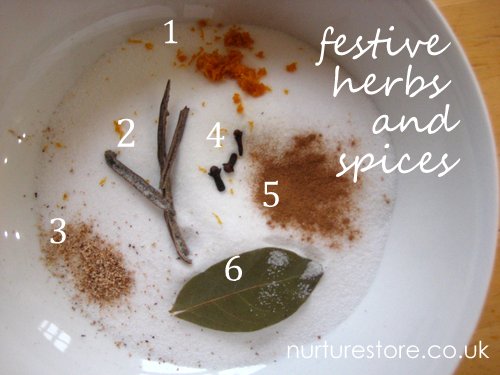 More Christmas  play dough
If you love play dough and would like some other Christmas sensory play ideas, take a look at our special Christmas Day play dough.
Super Sensory Invitations to Play

Ready for a whole year of exploring through the senses? Super Sensory Invitations to Play is a delightful resource that encourages your children to explore the five senses through the year, using a wide variety of sensory materials. It includes 52 invitations to play, linked to the festivals and seasons of the year, and including water, ice, dough, rice, paints, sand, sensory tubs, and more.
They are easy, simple, and fun ideas that you can use right now to give a multi-sensory boost to your play and learning. It comes with a printable recipe book featuring all our favourite recipes for play. Come and see more here.