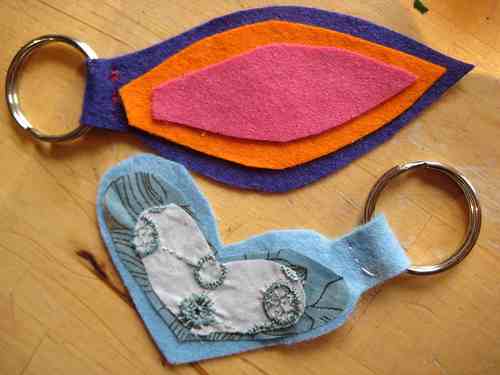 Welcome to the fourth post in our series of ideas for child-made Christmas presents: how to make a fabric keyring.
We're sharing suggestions for gifts that are easy for the children to make and lovely for someone else to receive, and encourage the children to join in with the spirit of the season and give a little something to those they love.
This keyring can either be stitched or glued, so you can adapt it to suit your child. Toddlers can help to make one and an older child (seven or eight-ish) might make one by themselves.
How to make a fabric keyring 

First you will need to gather your materials. You will need some felt or thick fabric, fabric glue and /or needle and thread, good scissors, some fabric, sequins or buttons for embellishments and a keyring hoop (we bought ours from ebay)


Next plan out your design. You might like to draw your keyring design on a piece of paper first so you can work out which colours you'd like to use and where you want your decorations to go.


Then cut out the main piece of felt or fabric that is going to be your keyring. Make sure to add a tab on the top so you can fasten your fabric keyring to your metal keyring. You can make any shape you like, maybe a circle, flower or heart.
Add your embellishments to this main piece of fabric. You might like to add extra layers of fabric in contrasting colours or buttons, beads or sequins. Older children might like to stitch them in place, younger children can use a strong fabric glue.


Once your design is finished (and any glue is dry) you need to fasten your keyring to the metal hoop. Simply fold over the tab of your fabric and stitch it in place.
More presents the children can make
If you like thiskeyring idea you might also like:
:: how to finger knit a brooch