New here? Get fun kids play ideas from us all year round!
Want a quick email from me each weekend with seven great play-based learning ideas for the week ahead? NurtureStore's Play Planner is already sent to over 30,000 families every week – so, join us!
If you'd like to have a copy of the weekly play planner delivered straight to your e-mail in box, pop your email address in the box below.
Join me for a glorious summer of creative fun
>>>> Click here to register and you can bring a friend for free!
Starting July 1st I'm hosting an online, international summer camp called Art Spark. I'll guide you through four weeks of beautiful and fun art projects that you can enjoy with your children, wherever you're spending the summer. At home, in the forest, at the beach… these process art projects will give you an interesting framework of activities that you can weave into your summer, so your children are engaged, creating and enjoying themselves throughout the season.
The projects include painting, printing, and sculpture, along with science, sensory and messy play, so there's something for everyone to enjoy.
I'll guide you through the four week programme, so everything is carefully thought out for you, with each week building on the others. You can pick as few or as many projects to try each week, so the summer camp fits perfectly around your other holiday plans. See more details here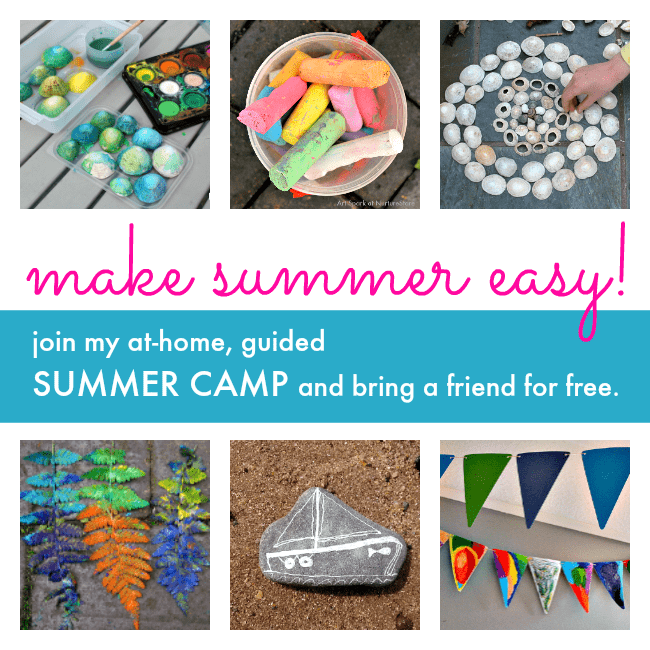 Screen Free Week ideas
Just as a healthy diet can certainly include cake, so a balanced childhood can include screen time. Family movie nights, skyping with Grandma and typing stories on the laptop are all great fun. It's just there are so many other fun thing to do if you step away from a screen.
If you'd like to spend a little more time with the kids, and without a screen, whether for an hour, a day or the whole week, here are 100 fun kids activities you could try.
Click each idea to see the full details.
And you can print off the list at the bottom so you really can log off and go play. [Read more…]