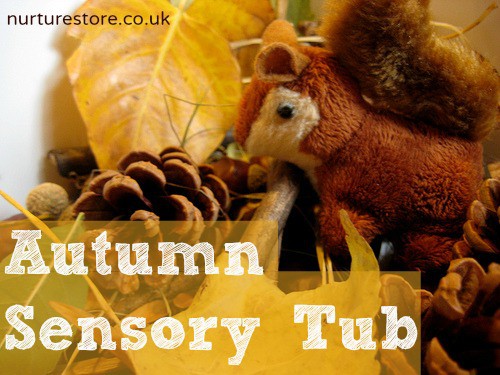 Using all the materials we gathered in our treasure bags on our autumn scavenger hunt, today we made a sensory tub.
Sensory tubs are wonderful for young children to play with and at this time of year Mother Nature provides lots of ingredients to use which invite children to explore colours, textures and sounds.
We filled our tub with dry crisp leaves, sticks, acorns, conkers, fircones, seeds
We invited some squirrels to come along and play. The children soon had the animals chatting to each other and building nests. I told them I'd hidden twenty acorns in the tub and asked the squirrels if they could find them all.


Did you notice how this squirrel is so neat and organised, with all its store of food so carefully sorted? (If only this child's bedroom was to tidy.)


And look how hard this hedgehog is toiling to bring its leaf wheelbarrow of goodies home to its family – with a leaf umbrella to shelter help from the rain.

Super Sensory Invitations to Play

Ready for a whole year of exploring through the senses? Super Sensory Invitations to Play is a delightful resource that encourages your children to explore the five senses through the year, using a wide variety of sensory materials. It includes 52 invitations to play, linked to the festivals and seasons of the year, and including water, ice, dough, rice, paints, sand, sensory tubs, and more.
They are easy, simple, and fun ideas that you can use right now to give a multi-sensory boost to your play and learning. It comes with a printable recipe book featuring all our favourite recipes for play. Come and see more here.