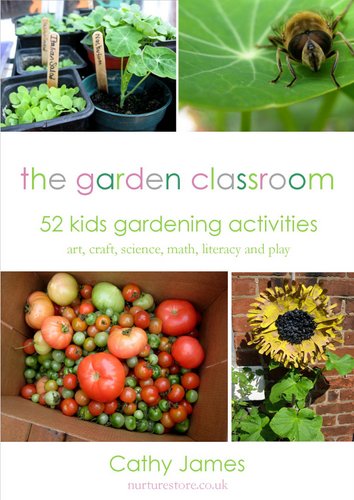 I'm passionate about kids and gardens. From my own girls, the children I work with and the members of my School Gardening Project I see how much enjoyment and learning kids get from being outdoors. They get fun and freedom from all the fresh air and open space. Hands on science lessons as they watch seeds germinate and bugs build homes. Inspiration and materials to create art. And lots of encouragement to get messy and enjoy the soil, sand and sunshine.
I think my kids really are at their happiest when they're outdoors and I wanted to share with you some of the very best activities they've enjoyed ~ so I am very excited to introduce to you The Garden Classroom. It's a book which collects 52 art, craft, science, math, literacy and play ideas: all tried, tested and enjoyed by children I know. It brings together some ideas from this blog, all re-edited into a useful format with additional photographs and extra activities, along with brand new ideas I think you will really like.
Choose your favourite title page
The Garden Classroom will be available very soon but for now I wanted to share my news with you and ask you to help me.  Will you help me complete The Garden Classroom project and decide on which cover page to use?
You can see here two different title pages for the book. Which one do you like the best? Version one at the top or version two at the bottom?
I can't decide, so please leave a comment and let me know which one you like the best. Thanks!